I have a squeaky pully that only makes noise once the car is up to temp. I tried to spray some tri-flo lubricant on all the pullies, no help. Is there a way to isolate which pully is making the noise? Should I break out a stethescope or something?
You may have read my post below on the alternator thread about my volt meter reading low when up to temp. I don't think the alternator is whats making the noise, because the volt meter problem is older than the pully squeaking problem. I guess it could all be signs of the alternator going out though.
Do water pumps start to make noise when they are going out, or is the leaking from the weep hole the only sign of trouble?
Any ideas would help?
P.S. Anyone want to buy a 94 cobra with an apparent charging problem and squeeky pully?
"As far as I know, the motha****a is tip-top" What movie?!?!
__________________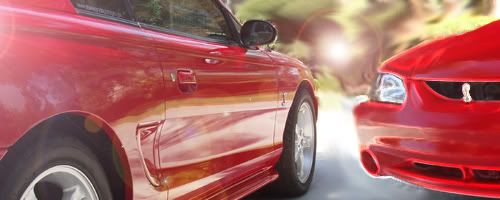 1994 Rio Red Coupe #3564
304 ci, GT40X Aluminum Heads, Extrude Honed and Polished intake, Motorsport F303 cam, vortech fuel rails, 77 mm Pro-M mass air, 70mm BBK T-Body, Smog pump deletion, MSD and Perfomance distributors ignition components, Tremec 3550, Steeda Tri-axe, King Cobra/Centerforce clutch, Custom 3" Alum Driveshaft, 3.55 Gears, Griggs rear suspension w/torque arm & pan hard bar, Koni Red Shocks/Struts