1994 SVT Cobra FOR SALE
---
Hey Guys and Gals,
Regrettably I am selling my 1994 Cobra. Some of you may remember this car from the 2004 club meeting in Pigeon Forge. I am probably asking high, but lots of dollars in this car and it needs absolutely nothing. Runs super strong. Everything works. Only selling to put together a down payment for a house...
Follow the link below for details.
http://inlandempire.craigslist.org/cto/3582062641.html
Thanks!
Aaron
__________________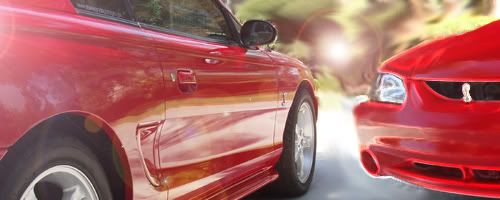 1994 Rio Red Coupe #3564
304 ci, GT40X Aluminum Heads, Extrude Honed and Polished intake, Motorsport F303 cam, vortech fuel rails, 77 mm Pro-M mass air, 70mm BBK T-Body, Smog pump deletion, MSD and Perfomance distributors ignition components, Tremec 3550, Steeda Tri-axe, King Cobra/Centerforce clutch, Custom 3" Alum Driveshaft, 3.55 Gears, Griggs rear suspension w/torque arm & pan hard bar, Koni Red Shocks/Struts