Multi Colored Mitsu!
---
Few days go by when i am not bothered by multi-colored foreign piles of sh!t....

This time i was on the freeway cruising along at around 75 mph after a very satisfying thanksgiving dinner, when lights began to gain on me in the rearview. It turned out to be a 3000GT, and pulled right next to me, pacing my speed. i thought this guy was kidding until i looked over and saw his shadow staring back at me. I figured i would wait for him to drop it, and he did, sending his car forward in a surge not much more impressive than the current 75 mph cruise. I dropped the hammer into 4th and pulled about 1-2 car lengths ahead and then let off as i was nearing 100 mph. i dont need any more tickets so i let the big guy speed on by me a few seconds later after he caught up. he soon exited the freeway. I wonder if he lived off that exit, or just needed a place to put his tail between his legs...
__________________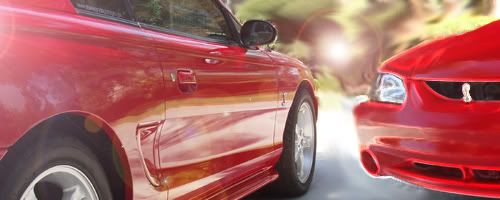 1994 Rio Red Coupe #3564
304 ci, GT40X Aluminum Heads, Extrude Honed and Polished intake, Motorsport F303 cam, vortech fuel rails, 77 mm Pro-M mass air, 70mm BBK T-Body, Smog pump deletion, MSD and Perfomance distributors ignition components, Tremec 3550, Steeda Tri-axe, King Cobra/Centerforce clutch, Custom 3" Alum Driveshaft, 3.55 Gears, Griggs rear suspension w/torque arm & pan hard bar, Koni Red Shocks/Struts