I guess this is kind of a kill story... Just a little addition to my post in the lounge section, i was all over the back of the camaro you see in the pictures on the drive. The griggs really helped me carve up the canyons.
Hi Everyone,
This event wasent associated with SCMC at all, but i though others would enjoy the pics of this little run a few close friends of mine put on. It was kind of last minute, and i thought about trying to get an email out to my fellow Southern Ca members, but i didnt think there would be enough time. This was a little run through Malibu off PCH (Pacific Coast Highway) at dawn. It was a perfect day, and as you can see by the pictures, it is a very beautiful place. The mountain roads up here are VERY twisty, and even required a couple 1st gear turns!
We stopped for breakfast at a little hole in the wall called the "Rock Store". It is a notorious hang out for motorcyclists on the weekends. You can see that we were a little more dedicated than others by the amount of bikes in the arrival picture, and then later on. I was lucky i moved my car when i did, otherwise our cars would have been blocked in. Walking in to get people to move bikes probably would have proved to be rather unsuccesful.
There is a picture too of a traffic ticket that my friend in the black Honda S2000 got. The CHiPper was quite nice, and obviously was a car guy, seeing as how getting stopped for flying past him at probably 80+ in a 55, and locking the rears a little on an e-brake stop, resulted in a no front plate ticket.
I'll be sure to try and get an email out sooner next time something like this goes on, we are going to try and make runs through here, escondido/san diego area, and the arrowhead/big bear area rather frequently. Enjoy the pics, and check them in a couple days in addition to today, as my friend is in the process of uploading them to his website.
If anyone is wondering what those little roadster cars are, they are called Catterham Super 7's. Pretty sweet little kit cars that run Ztech focus motors. One of the guys with us had a cosworth racing motor, and claimed his car could hit 60 in "about 3 1/2 seconds". Those things only weigh like 1150 pounts with driver! I think i might have to get one some day...
Some of the pictures are really bad quality because we were forced to switch to my cell phone as a camera. The good camera went back down the mountain after breakfast, due to my co-pilot and the black Honda's co-pilot, not feeling up to going any further. I guess they couldnt handle the g-forces, got a little sick...
We ran into a brand new WRX STi along the way, but he didn't seem to up to running with us.
In case anyone is wondering who i am, in the second picture i am the one in the black sweatshirt under the christmas lights, oh and bending over my snake at the gas station...
Also, once you have checked out that gallery, click on "pictures" on the left hand side, or "browse another gallery". There are a ton of pics from other drives and track events my friend has been to, including a gallery dedicated to my car...
http://www.reverendsgarage.net/index...bfe&gallery=53
__________________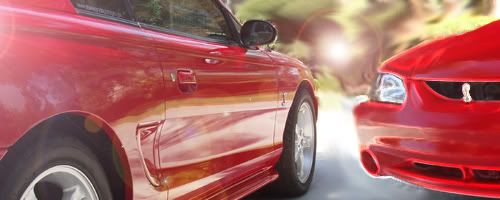 1994 Rio Red Coupe #3564
304 ci, GT40X Aluminum Heads, Extrude Honed and Polished intake, Motorsport F303 cam, vortech fuel rails, 77 mm Pro-M mass air, 70mm BBK T-Body, Smog pump deletion, MSD and Perfomance distributors ignition components, Tremec 3550, Steeda Tri-axe, King Cobra/Centerforce clutch, Custom 3" Alum Driveshaft, 3.55 Gears, Griggs rear suspension w/torque arm & pan hard bar, Koni Red Shocks/Struts